The Warehouse Support Site (WSS) is a full-featured Warehouse and Shipping management tool
The Warehouse Support Site (WSS) allows your warehouse staff to print pick tickets, print UCC/GS1-128 barcode shipping labels, send Advance Ship Notices (ANSs), send Order Acknowledgements and Invoices. Each login "learns" what tools you use the most and users can define advanced features such as auto-archiving and quantity and weight per item.
Warehouse Support Site – Tools & Features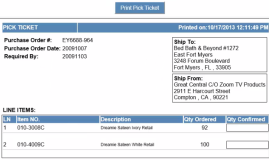 Pick Ticket Orders to ERP
This tab allows your warehouse employees to print a Pick Ticket slip that shows the purchase order number, required by date, shipping addresses and the description and quantity of line items ordered.
This is basically an overview of the purchase order allowing someone in your warehouse to navigate and pack the orders accordingly.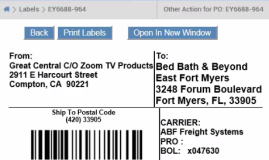 UCC / GS1 Labels
Labels can be printed for the corresponding POs using the WSS label generator. There are two types of labels; pick & pack or standard pack. Once you know how your packages will be broken down and shipped, you can generate and print your labels to be placed on the shipping containers.
Information from these labels can also be used to generate Advance Ship Notices (ASNs) later. The labels can include tracking information and will help a distribution center know exactly what is in the box before they open it.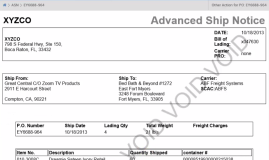 Advance Ship Notice (ASN)
The Advance Ship Notice (ASN) is a document that is generated from a referenced PO and UCC / GS1-128 Barcode Shipping Label.
This document is sent to the receiving party to let them know what to expect when the shipment arrives. They can then scan the ASN and corresponding barcode label to make sure they match up. It is important these two documents match otherwise chargebacks will occur.

The navigation panel can be found on the left hand side of the screen and is where you will find all the different document types and tools.
Additionally, we have added a "Commonly Used Documents" bar that learns from your actions. It knows what tools are most useful and puts them front and center.
Last but not least, the "Other Actions" bar allows you to perform different actions while staying with the same purchase order reference number. This way it's one smooth motion removing the need to click each document every time.

This upgraded feature is related to the upgrade in speed and gives you a more uniform way to search POs. In addition to being able to search for POs by their number, you can now scan GS1-128 (UCC-128) barcode labels into the search bar to pull up the corresponding PO.
You can also still search for archived POs in case you ever need to resend a document.

Behind the scene database upgrades allow for faster retrieval of your data. This allows for faster browsing and faster label creation.
Another new and very useful feature is the ability to automatically archive POs. Using auto-archive minimizes the amount of POs that show up on the pages, making it faster for the page to load and easier to navigate to the relevant POs that you may still need to work with.

B2BGateway now offers integrated support built right into your Client Portal and Warehouse Support Site (WSS). If you ever have a question that needs to be answered, or would like to speak with someone right away, you can click the chat window at the bottom-right side of any page. Just type in your name, email and phone number and you'll be connected with someone from the Production Support Team immediately.
Additionally, you can always call 401-491-9595 x4 to reach someone from the Production Support Team by phone.
Have a question about the Warehouse Support Site (WSS)?