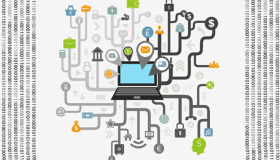 The number of smart devices or 'things'—from thermostats to refrigerators to clothing—is growing rapidly thanks to a huge demand from consumers and organizations alike. Gartner predicts that by 2020, about 26 billion smart products will be in service and McKinsey Global Institute further predicts that these smart devices, or the 'Internet of Things (IoT)' as they have commonly been called, have the potential to add $6.2 Trillion to the global economy by 2025. The IoT will increasingly require ways to transfer data from smart devices without human intervention.
Manufacturers and/or distributors of these smart products should be able to work with third party data service providers to address issues of data integration, analysis and management to the end user. These third party service providers, such as EDI providers, could play a critical role in helping manufacturers and/or distributors make the most of the IoT. EDI technology allows for the seamless transfer of data between applications without human touch. This in turn benefits the manufacturer of the smart device by allowing for larger volumes of data to be exchanged securely, rapidly and without error.
It remains to be seen how the IoT will develop over the next ten years or so, but one thing is for certain, EDI in whatever form or shape it may take, could have a very relevant part to play in securely transferring the data from the 'things' to their end users! For further information on EDI and integrating your data call B2BGateway at (USA): +1 (401) 491-9595 x5 or (Europe): +353 61 708533 or email Sales@B2BGateway.Net.