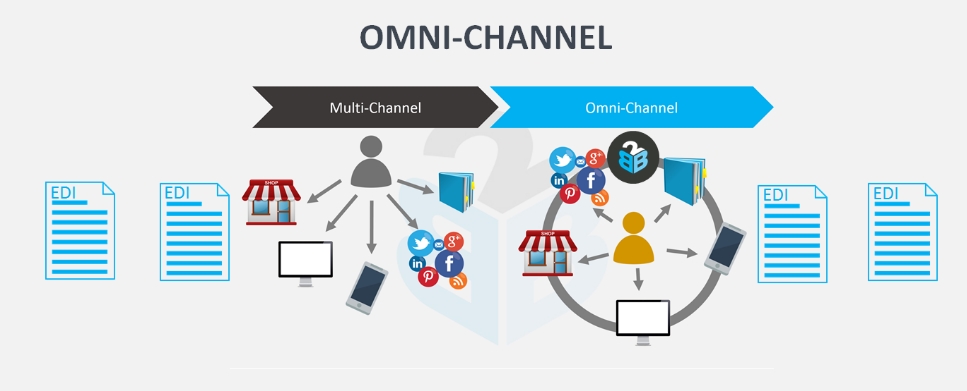 EDI AND THE OMNI-CHANNEL SUPPLY CHAIN
Omni-Channel introduces Consumer to the B2B workflow.
No longer just B2B, now suppliers must think of bigger picture – B2B2C.
Need to get right product through the right channel to the right consumer at the right price and in the right timeframe.
EDI seamlessly integrates all communications within the supply chain, delivering greater accuracy and reduced costs.
To fulfil goods and services for the ever increasing world of omni-channel retail, suppliers have to create excellence in their omni-channel logistics operations. Omni-channel retailing is best described by Wikipedia as the evolution of multi-channel retailing, but is concentrated more on a seamless approach to the consumer experience through all available shopping channels, i.e. mobile internet devices, computers, bricks-and-mortar, television, radio, direct mail, catalog and so on. Retailers are meeting the new customer demands by deploying specialized supply chain strategies and software solutions.
The major challenge for suppliers, in order to meet the retailers' new omni-channel needs, is to get their goods and services to the correct channel as quickly and as accurately as possible and, needless to say, in the most cost effective manner.
In order to help suppliers achieve excellence in omni-channel logistics, fully integrated EDI solutions deliver full end to end seamless connectivity between the supplier and all parties in the supply chain from box store retailers (Wal-Mart, Target, CVS, etc.) to online retailers (Amazon, Buy.com, Wayfair, etc.), to manufacturers, third party logistics providers (3PL) and even the supplier or manufacturers own online shopping carts (which may be powered by online platform providers such as 3dcart, Volusion, Magento, Shopify, etc.).
As there is full automation and no need to re-key data, the supplier benefits greatly from increased speed, increased accuracy, greater visibility and reduced labor overheads, while the omni-channel retailer is assured that they will get the right product to the right customer in the right time frame and within agreed costs.