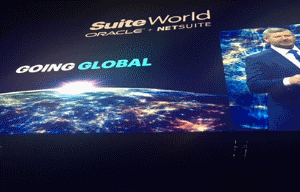 As you may be aware, NetSuite's annual conference SuiteWorld17 took place last week in Las Vegas, NV. There was a new look and feel to this year's conference with the new Oracle branding on all signage and Jim McGeever replaced Zach Nelson to deliver the main keynote address. It was during this keynote that Mark Hurd, CEO of Oracle, confirmed that oracle would continue to run NetSuite as a global business unit within Oracle and would help the world's number 1 cloud based ERP system to grow and dominate its market share.
From Jim McGeevers opening address to the NetSuite partners on Monday April 24th, here are my 3 key takeaways:
NetSuite is Going Global
With the help and support of Oracle, NetSuite is going to put a huge push on growing and dominating the worldwide Cloud ERP marketplace. This year NetSuite has plans to expand into 30 more countries including Germany, the Benelux countries and Scandinavia to name a few.
NetSuite is now a complete Unified Suite
With the introduction of SuitePeople, NetSuite adds HCM to its existing portfolio of ERP, CRM, eCommerce (SuiteCommerce) and Omni-Channel solutions. Adding a HCM solution now gives NetSuite a complete suite of business software solutions to all organizations.
SuiteSuccess
SuiteSuccess was the big buzzword at SuiteWorld17. According to NetSuite 'SuiteSuccess is the culmination of a multi-year transformation effort to combine the NetSuite unified suite, 20 years of industry leading practices, a new customer engagement model and business optimization methods into a unified, industry cloud solution. SuiteSuccess is engineered to solve unique industry challenges that historically have limited a company's ability to grow, scale and adapt to change.' Also, according to NetSiute, following the best business practices of SuiteSuccess, new customer implementations should go live within the first 100 days.
B2BGateway, a Built for NetSuite solution, has been NetSuite's EDI partner for over 15 years and provides cloud based, fully integrated EDI solutions to NetSuite users across the globe. If you would like to know more on how B2BGateway's EDI for NetSuite solutions can help your organization please join our free webinar on May 10th, 2017 at 1pm EST. Details and registration here.