B2BGateway is prepared for your spike in sales this upcoming season, are you?
Don't wait until the last minute to implement a fully managed EDI & API connectivity solution to fulfill the high demand in orders for the upcoming holiday season. Black Friday and Cyber Monday are two of the most well-known high volume shopping days of the year and they are not too far ahead of us. It can be stressful in the weeks or months leading up to the holiday season. The high traffic and volume during the busy shopping period offers many opportunities to engage, convert, and fulfill orders for every customer. By providing a positive shopping experience, you can make a great name for your business while also improving brand loyalty for your future success. If you have the potential to see a large increase in orders for this upcoming holiday season, don't let manual data entry or rudimentary systems slow down your business.
An EDI & API connectivity provider like B2BGateway can remove a lot of stress during the spike in sales leading up to the holiday season. B2BGateway's connectivity solutions enable purchase orders to import directly into your system and the corresponding invoices to export directly out of your ERP / Accounting Package. Automating electronic document transmission allows for the reduction of data-entry errors, helps to validate prices on incoming sales orders, as well as check inventory within your ERP / Accounting Package. By eliminating data entry errors on your EDI documents, you'll also avoid costly chargebacks. Additionally, B2BGateway's solution provides the necessary flexibility to meet each different retailer's expectations, configurations, and EDI requirements. We also will automatically update your EDI / API configuration when updates are mandated by your trading partner(s). Get ready to handle the surge in orders by getting started today.
Simply put, B2BGateway is prepared for your spike in sales this upcoming season.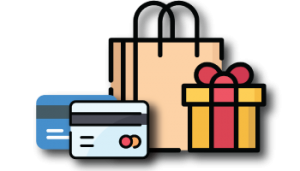 Don't scale down your business just because you can't keep up with the distribution of large surges in order volume this holiday season. B2BGateway is an EDI provider that you can trust, with over 35,000 fully integrated client and trading partner relationships trading business documents on a daily basis.
Don't wait until the last minute to setup EDI with B2BGateway; now's the time to really think about taking the appropriate steps to help your business scale during the upcoming holiday shopping season. When you sign up with B2BGateway, you'll be assigned a dedicated setup team of EDI experts to ensure that every component of your integration is fully tested and functioning before exchanging live orders with your trading partners.
If you're already a B2BGateway client and you've been accepted as a vendor for new trading partner relationships, contact us today to set up your new EDI connections.