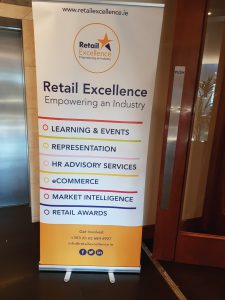 Retail Excellence, the largest retail representative body in Ireland had their 2018 E-Commerce Conference on Wednesday, September 19th at the Crowne Plaza Hotel, in Dublin. B2BGateway was delighted to attend this event.
The event had a very strong presence of highly established E-Commerce companies focusing on developing the retail experience and making life for the customer and retailer an easier process. Shopify attended the event, who is one of the largest E-Commerce sites out there that supports retailers in terms of online selling platforms. It was great to speak to some of their very talented staff members and discuss future possibilities.
B2BGateway was able to discuss our platform and what our product can do for such retailers. Being an EDI & API Connectivity Solutions provider, we enable businesses to connect to other businesses whether it be a supplier, a trading partner or 3PL and transmit business documents electronically eliminating the need for manual data entry that could lead to costly chargebacks. B2BGateway integrates with all major ERP systems such as NetSuite, Xero, Sage, QuickBooks etc. and having on-boarded over 25,000 relationships, we have worked with all major retailers such as Amazon, Tesco, Lidl, John Lewis, Macy's, Homebase, Target, just to name a few.
B2BGateway is looking forward to attending many more Retail Excellence events going into 2019.
If you would like to discuss an EDI & API Connectivity Solution, please reach out to us at InfoUK@TrueCommerce.com or by phone at +0345 643 6600.