B2BGateway EDI Solutions Achieved Built For NetSuite Verification
"We are delighted that B2BGateway, one of the longest standing NetSuite partners, has embraced the Built for NetSuite program, showing continued commitment to our customers' success with the joint solution."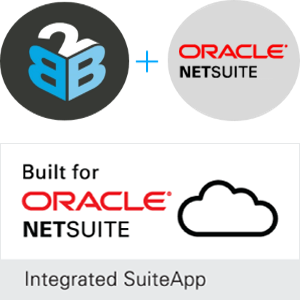 July 23, 2013 | Boston, MA – B2BGateway, the leading global EDI solution provider, today announced that its B2BGateway EDI SuiteApp has achieved 'Built for NetSuite' verification. The SuiteApp is a cloud-based, fully integrated Electronic Data Interchange (EDI) solution for NetSuite that provides automatic Web services integration.
'Built for NetSuite' is a new program for NetSuite SuiteCloud Developer Network (SDN) partners that provides them with information, resources and a method to verify that their applications and integrations, built using the NetSuite SuiteCloud Computing Platform, meet new NetSuite standards and best practices. The 'Built for NetSuite' program is designed to give NetSuite customers additional confidence that SuiteApps have been built to meet these standards.
The B2BGateway EDI SuiteApp supports all inbound and outbound documents from NetSuite to the Trading Partner and back.
Key features and benefits:
Automatic Item Fulfillment
24/7 Direct Support
Full, seamless integration through web services
Built-in cross-referencing and business logic
Full-integrated advanced ship notice (ASN) support
Full warehouse support including GS1 / UCC – 128 label creation
According to Guido Haarmans, Vice President of Business Development for Technology Partners at NetSuite
"The Built for NetSuite program allows NetSuite partners such as B2BGateway to give our customers an additional degree of confidence that they have verified their SuiteApps against NetSuite's guidelines for quality, security and privacy and deliver value as part of an integrated NetSuite environment. We are delighted that B2BGateway, one of the longest standing NetSuite partners, has embraced the Built for NetSuite program, showing continued commitment to our customers' success with the joint solution."
Steve Kohler, VP of Systems Development at B2BGateway added,
"Having been a long term SDN partner of NetSuite and sharing hundreds of clients globally, B2BGateway made it a priority to achieve the 'Built for NetSuite' accreditation. 'Built for NetSuite' allows our customers and potential customers to not alone have complete confidence that our solutions work, but to know that they have also been rigorously tested and independently verified by NetSuite themselves under the 'Built for NetSuite' program".
About B2BGateway: B2BGateway is a leading global EDI (Electronic Data Interchange) solutions provider with offices in North America, Europe and Australia. B2BGateway has been providing cloud-based, fully integrated EDI solutions to NetSuite users worldwide since 2001. B2BGateway's solutions are 'Built for NetSuite' and come with full 24/7 back up support. B2BGateway's NetSuite EDI solutions are simple to use, competitively priced, highly effective and can increase profitability by reducing costs associated with manual data entry. For further information please call +1 (401) 491 9595 or log onto www.B2BGateway.Net
About NetSuite: NetSuite's SuiteCloud is a comprehensive offering of cloud-based products, development tools and services designed to help customers and commercial software developers take advantage of the significant economic benefits of cloud computing. Based on NetSuite, the industry's leading provider of cloud-based financials / ERP software suites, SuiteCloud enables customers to run their core business operations in the cloud, and software developers to target new markets quickly with newly-created mission-critical applications built on top of mature and proven business processes. The complete SuiteCloud offering includes NetSuite's multi-tenant, always-on SaaS infrastructure; the NetSuite Business Suite of applications (Accounting/ERP, CRM and Ecommerce); and the NS-BOS Development Platform.
The SuiteCloud Developer Network (SDN) is a comprehensive developer program for Independent Software Vendors (ISVs) who build apps for SuiteCloud. All available SuiteApps are listed on SuiteApp.com, a singlesource online marketplace where NetSuite customers can find applications to meet specific business process or industry-specific needs. For more information on SuiteCloud and the SDN program, please visit: www.netsuite.com/developers
Contact:
Mr. Roger Leyden
Director of Global Business Development
B2BGateway.Net
Phone: (401) 491 9595 ext 2300
Email: RogerL@B2BGateway.Net