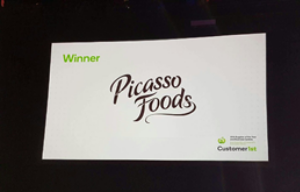 Picasso Foods Australia Pty Ltd. is an Australian food manufacturer of fresh-prepared food. Its products include prepared meals, pizzas, craft breads, pasta sauces, antipasto, chargrills and marinated olives. The company differentiates itself through innovation, new product development and delivering fresh products to supermarkets across Australia. Last month Picasso Foods won the Woolworths Supermarkets Food Company Supplier of the Year!
Woolworths Supermarkets is a large grocery/supermarket chain store in Australia owned by Woolworths Ltd. The Woolworth's Supplier of the Year program is based on the simple objectives of providing scoring criteria aligned with Woolworth's key business objectives and scoring suppliers on this. Through their Supplier Partner Program Woolworths is seeking a cycle of continuous improvement to facilitate mutual growth of both the retailer and its suppliers.
Jim Laftsidis, General Manager at Picasso Foods recently wrote, "On Tuesday night we attended the Woolworths Supplier of the Year awards night and are very proud to announce that Picasso Foods was awarded the Woolworths Food Co Supplier of the Year Award!! This award is another crucial step in fulfilling our positioning strategy, but our ongoing relationships with companies such as B2BGateway is at the heart of us having the capability to deliver. We certainly look forward to continuing to build and working with the B2BGateway team, and capturing future opportunities for both our businesses."
B2BGateway would like to wish Jim and all the team at Picasso Foods a very hearty congratulations and we look forward to supporting their rapid growth for many years to come.
If you would like to know more about how B2BGateway can support and help grow your manufacturing and wholesale distribution business, please visit www.B2BGateway.Net or email Sales@B2BGateway.Net