B2BGateway partners with JCurve Solutions in the Australian Marketplace:
B2BGateway opened their Australian office in mid-2015. Since then we've gone from success to success and grown exponentially.
We've worked with a variety of local manufacturers and distributors who sell their products through retailers in Australia including David Jones, Woolworths, Coles, Rebel Sports, The Iconic, Big W, and Bunnings to name a few.
Some of our Australian customers even sell their products overseas to the likes of Walmart, Nordstrom, Selfridges, CVS and Amazon.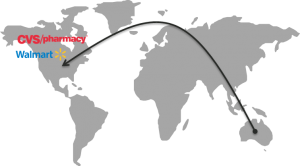 We're finding that companies are increasingly leveraging the efficiency of using 3PLs and many of our customers have used our EDI services to automate the delivery of shipping documents to their 3PLs, eliminating the need to manually send orders to them.
B2BGateway has also formed some great partner relationships in the Australian market. One of these partners, JCurve Solutions, specializes in business management software for small and medium sized businesses. If you're finding that you've outgrown your current accounting package, we recommend that you consider Jcurve ERP.

They sell and support several different ERP systems including Jcurve ERP, NetSuite and MYOB Advanced, enabling them to recommend the right solution for your business. To learn more, please read their recent blog post, What is ERP Software or download their ERP Buyer's Guide.
The B2BGateway Sales team is always available to answer any questions that you may have.
AU office – 02 8003 7584
US office – 401 491 9595 extension 5
EU office – 353 61 708533