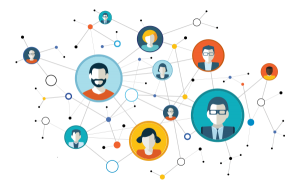 At B2BGateway, we understand that this is the first EDI experience for many of our clients. For others, they may not have the internal resources to perform the full suite of testing necessary to establish the connections between their ERP or accounting software and their trading partners. For this reason, B2BGateway assigns a dedicated setup team of EDI experts to each new project to ensure that every component of their integration is fully tested and functioning before the client begins exchanging live orders with their partners. The Implementation Setup Team consists of:
Project Manager
The project manager is the main point of contact for the client throughout the setup process. Introduced to the client on the initial kickoff meeting, The PM will review the client's scenario and establish a project plan that will highlight the expected timeline until all testing between the trading partners is completed. All communication with the Project Manager is done through our EDI Client Portal, an online operations dashboard that allows the client to have full visibility into the status of each testing item for every trading partner that's added to their EDI network. Clients will also be alerted to any action items during the setup through the EDI Client Portal.
Implementation Data Mapper
The implementation data mapper is responsible for the programming and coding required to establish the proper connections between B2BGateway and a client's back-end accounting software. This programming is required to ensure that the data that B2BGateway receives from a client's trading partner is accurately translated and imported into, or exported from, the client's software. The IDM makes the smooth transition of data from one platform to another and the elimination of manual data entry possible.
Trading Partner Liaison
The trading partner liaison is the main communication link between B2BGateway and the trading partners the client is adding to their EDI network. Rather than requiring the client to relay the pertinent information about the partner to our team at the risk of missing important components, the TPL will reach out directly to the trading partner to determine their processing requirements and begin testing the necessary data files that will allow the data to flow appropriately. As the required data files are added to the project and proceed through the testing cycle, the client will be able to check the percentage to completion for each one through their EDI Client Portal.
The goal of the setup team is to provide as much hands-on support through the testing phase as possible, virtually walking new clients through the process and training them on the various interfaces they'll need to access. Once setup is complete, the team will remain with the project for 90 days into production to verify that the processes are running smoothly before transitioning the client to our Production Support team, whom will assist going forward and for the duration of the client's relationship with B2BGateway.
For more information, please contact Sales@B2BGateway.Net.