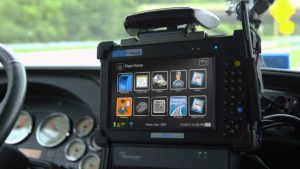 An Electronic Logging Device (ELD) is electronic hardware that is attached to a commercial motor vehicle engine to record driving hours. The driving hours of commercial drivers (truck and bus drivers) are regulated by a set of rules known as the hours of service (HOS).
The Federal Motor Carrier Safety Administration (FMCSA) announced the Final Rule of the ELD mandate, and the ELD rule being implemented in several phases with a compliance date of December 18, 2017. Fleets have until December 2017 to implement certified ELDs to record HOS. Fleets already equipped with electronic logging technology will have until December 2019 to ensure compliance with the published specifications.
The FMCSA has set out three requirements for electronic logging devices:
1. ELDs must conform to the FMCSA's technical specifications
2. ELDs must be certified by the manufacturer
3. All ELDs must be registered with the FMCSA. Approved list can be viewed here.
The electronic logging device (ELD) rule is intended to help create a safer work environment for drivers, and make it easier, faster to accurately track, manage, and share records of duty status (RODS) data. OOIDA (Owner-Operators Independent Drivers Association) Director of Government Affairs, Mike Matousek, said there remains a possibility that FMCSA could delay or repeal their ruling on its own as part of Trump's regulatory reform initiative. He acknowledged that while that could be less likely following the Supreme Court's decision not to hear a case to repeal, it's not entirely out of the picture. The FMCSA will hold two live Q& A sessions on the introduction of ELDs on July 6th and July 13th, 2017. Further details about these broadcasts can be viewed here (** Please note registration is on a first-come, first-served basis with a 200-participant limit per session).
Next week we will discuss ELDs Vs. AOBRDs, who is exempt from ELD rule and how to pick an ELD manufacturer.