B2BGateway is an EDI and API Connectivity Solution Provider. We transfer documents from point A to point B, plain and simple, and it works! A lot of people stay true to that famous phrase "If it's not broken, don't fix it". Well, everyone besides the Innovations Department at B2BGateway.
The Innovations Department likes to take things that work and make them work better. They visualize the systems within B2BGateway and monitor for issues or weak points within those systems. They like to fine tune all of the processes to make B2bGateway's systems more efficient. Essentially, they look at each department within the company and say, "How can we improve this department"? To get an inside look, we interviewed Will Carroll, a valuable member of the Innovations Department, and asked him some questions about his job at B2BGateway.
How long have you worked for Innovations at B2BGateway?
Will: "I've been working for Innovations for about a year, after previously working in the Setup Department for two and a half years."
What do you like about working in Innovations?
Will: "I like Innovations because it allows me to help everyone in the company rather than just my specific department. If someone needs a tool to make their life easier, I can help build it. "
What is one project that you've worked on that stands out to you as being your favorite?
Will: "I worked on a tool called the Server Monitoring Tool. It's a program that is similar to a task manager on a standard windows computer. If you tell it to monitor a specific folder, it will look at all of the files within that folder and make sure the activity is consistent. Essentially, the tool allows us to see any red flags based on the activity monitored within a specific server translating data." For more information, check out the blog on the Server Monitoring Tool
How does the Innovations Department benefit B2BGateway clients?
Will: "A lot of the tools our team builds help each department within the company with their day to day processes internally, which in turn, positively affects the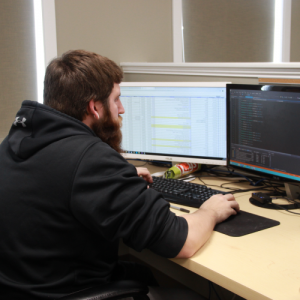 clients experience using EDI with B2BGateway. However, more recently and more client specific, Innovations just made a new tool to create new connections for clients who use AS2 communication. We try to think about ways clients might break tools and we help develop positive changes around them. Overall, Innovations mostly helps cushion each department within B2BGateway to make it so there is less room for error, more mainstreamed and as much automation as possible."
Innovations can help the company grow in many different ways. They look into different avenues where B2BGateway's EDI and API Connectivity solutions can expand as well as look for different opportunities outside of our day to day processes to help us grow.
Thanks Will, for giving us insight on how Innovations at B2BGateway is a great department that benefits the company and our clients in many different ways.