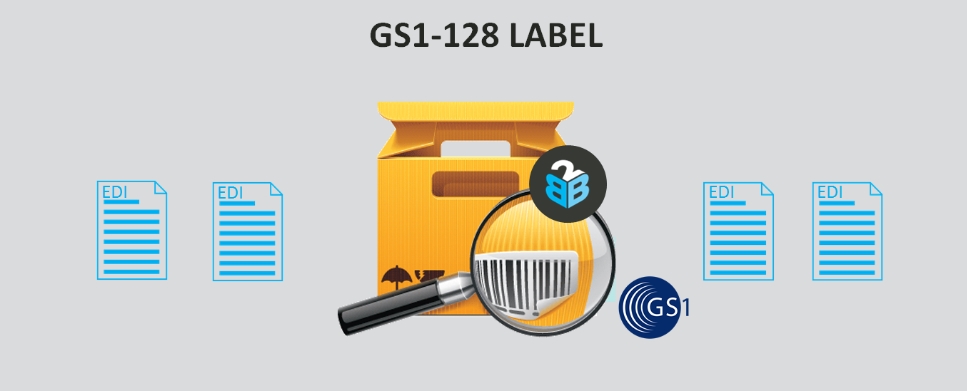 In today's business environment, GS1-128 (formerly known as UCC-128) labels have become a necessary part of the criteria for large format retailers in automating the supply chain with their suppliers.
The labels are an outer label affixed to each carton and/or pallet and provide information about a particular shipment. This label will alert the trading partner about shipment information such as who the vendor/supplier is, carton content, store ship to location, etc., and is a mix of both human readable as well as scan-able information.
The label on every carton is scanned at its destination location (e.g. trading partner central warehouse) and information usually is tied to an Advance Ship Notice (ASN) that has already been transmitted via EDI to the trading partner from the supplier.
GS1-128 Label
The ASN and GS1-128 label will provide a link to the original

PO

sent by your trading partner(s).
Implementing these labels with your trading partner(s) is not just seen as best business practice, but it will also speed up all shipping and receiving procedures, in turn leading to a faster 'Order to Payment' cycle for your organization.
The automation of the supply chain with the introduction of ASN and GS1-128 labels will help decrease your manual labor costs and help reduce errors.
All ASN and GS1-128 label standards are global – this alleviates confusion from global suppliers with regard to product details, weights and quantities.
The ASN and GS1-128 label standards apply throughout the entire supply chain, from raw materials supplier to manufacturer to distributor/wholesaler to end user/retailer.
These labels can be used for both inter and intra-company transactions.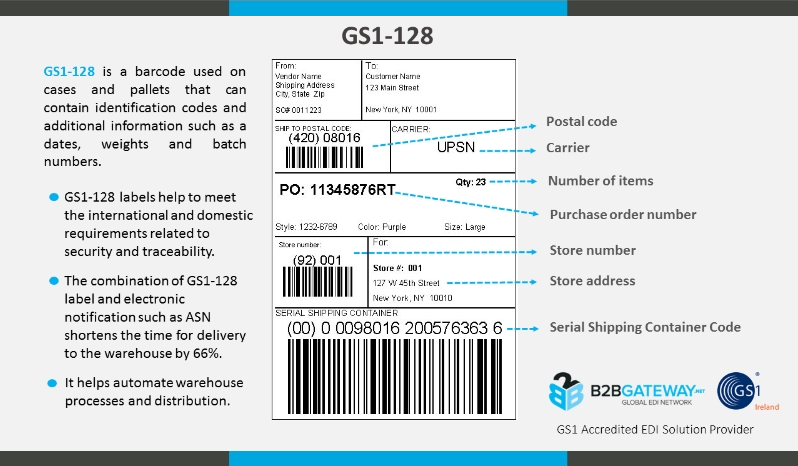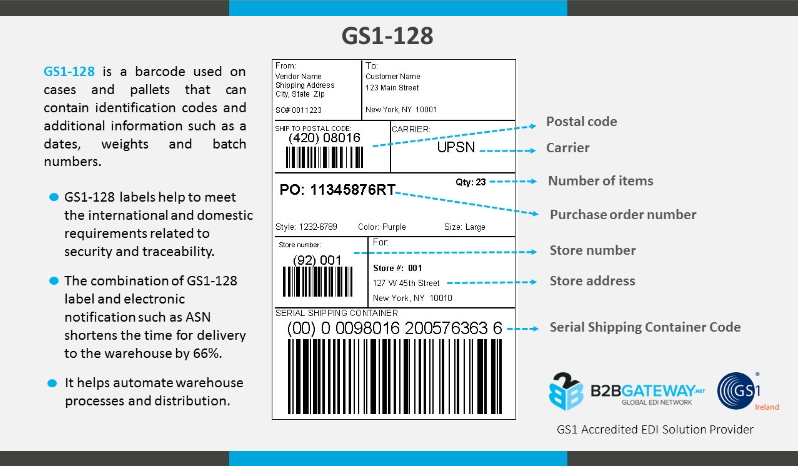 *Please note GS1-128 (also known as UCC-128) are outer case barcode labels that are used to let the receiver know what items are in the case/box. They should not be confused with shipping labels.
Have a question about EDI?