B2BGateway has donated to help pay for a family's milk for a year! If you'd also like to donate to this great cause please go to Terra Firma Farm's website.
Animal Rescue Rhode Island (ARRI) rescues abandoned, abused and surrendered animals without geographic limitation. We nurture them to be adopted as pets in loving homes.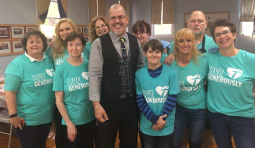 The Emmanuel Lutheran Church Food Bank helps feed the families of Rhode Island, USA that are unable to feed themselves.
Joseph's Storehouse
Joseph's Storehouse is a ministry at The Refuge that aims at feeding those in need. It is one of fastest growing ministries where they serve over a hundred families each week.
Youth Directions and Alternatives is a private, non-profit community and youth agency serving youth and their families in the school district of Elwood, Harborfields, and Northport/East Northport. YDA is for all youth.
You Have Enough Stuff
The annual "You Have Enough Stuff" toy drive provides free night of bowling in exchange for a toy donation. Over the past 12 years, this event has contributed over 3,500 toys to local families in need.
Brunch With A Purpose
Brunch With A Purpose started in 2008 as a way to help children in the welfare system who do not receive birthday or holiday gifts without community help. The children receive toys like doll houses, play kitchens and new clothes.
The Tour De Patrick and the St. Pat's 5K support the Providence St. Patricks Day Parade, Brown Kenya Program and Project Undercover.
Operation Holiday Cheer gives Rhode Island residents and businesses a chance to give back to the troops who are serving abroad at the holidays with care packages from home.
For over 35 years, the Chariho Girls Softball League has provided a recreational softball league to the girls of the Tri-Town Chariho area. The league supports girls in age from 7 years old up to 18 years old through various divisions geared toward different skill groups.
During November each year, Movember is responsible for the sprouting of moustaches on thousands of men's faces, in the US and around the world. These men raise vital awareness and funds for prostate and testicular cancer initiatives.
The Pan-Massachusetts Challenge is the nation's original fundraising bike-a-thon and donates 100% of every rider-raised dollar directly to cancer research and treatment at Dana-Farber Cancer Institute through its Jimmy Fund.
Since its founding in 1947, Dana-Farber has been committed to providing adults and children with cancer with the best treatment available today while developing tomorrow's cures through cutting-edge research.
B2BGateway staffers helped donate over 70lbs of food to feed families in need this Thanksgiving. The Rhode Island Community Food Bank works to end hunger in our state by providing food to people in need. One day, all Rhode Islanders will have nutritious food.
CFF is a nonprofit donor-supported organization dedicated to attacking cystic fibrosis from every angle. Their focus is to support the development of new drugs to fight the disease, improve the quality of life for those with CF and to ultimately find a cure.