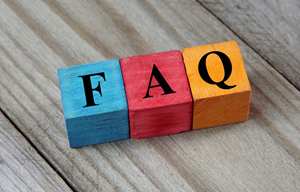 Below are some Frequently Asked Questions (FAQs) about EDI.
I often get asked questions about EDI, so I thought I'd write a short article answering a few of the common questions we get.
What is EDI?
EDI (

Electronic Data Interchange

) is defined as the electronic transmission of data between organizations. It's most commonly used to transfer documents such as Purchase Orders,

Invoices

, Advance Shipping Notices

(ASNs)

, and other documents, from one company to another, i.e. from a retailer to a supplier.
Why do companies use EDI?
The two most common reasons our customers implement EDI are:

Because their customers (most commonly a retailer) requires them to do so. Increasingly the larger Box Store Retailers are mandating their suppliers to implement EDI if they want to continue doing business together.
To reduce the manual labour involved in manually entering order information into their accounting or ERP system. By fulling automating the order entry process through EDI, data entry errors are also greatly reduced.
What are some of the common use cases for EDI?
Many companies implement EDI to be able to accept and send purchase documents to and from their customers who are most commonly box store retailers. But there are many other use cases for EDI:

To transmit purchase information to suppliers.
To transmit shipping information to 3rd party logistics companies (3PLs).
To integrate an eCommerce platform with an ERP or accounting system so that orders can be sent from the web store to the financial system.
To sell in online marketplaces such as Amazon.
What's unique about B2BGateway's EDI solution?
B2BGateway offers a fully integrated EDI solution that's compliant with most international standards. We've developed out of the box integrations to many ERP and accounting systems. This means our system is up and running quickly at a minimal cost. Additionally, B2BGateway is a global company with over 100 employees and we've developed over 25,000 trading relationships with business around the world. Anyone considering international sales, should partner with a global business such as B2BGateway.
What's typically involved in setting up EDI?
All B2BGateway clients are assigned a project manager who will manage the day to day activities during the setup. They will act as liaison between the client, their trading partners and our programmers who will setup the system. B2BGateway typically takes 4-6 weeks to setup a new trading relationship. Some of the activities during this time include:

Installing or setting up the ERP / Accounting System integration

Review the requirements with each

trading partner

, and agreeing on how the document flow will be handled with the client. Documents can be either directly imported to the client's accounting or ERP system or if no integration is required they can be sent to the client by email or through a portal.
Developing a detailed project plan outlining the steps and milestones during the setup.
Fully testing all required documents with each trading partner until both the trading partners and the client approve flow.
Setup any connections such as

FTP

,

AS2

,

VAN

etc. required by the trading partners.
Setup any queries required to pull data out of the ERP or Accounting System for processing documents.
Complete any necessary B2BGateway related training with client.
Above you'll find answers to the questions we get asked the most about EDI. However if you are still not finding the answer in our frequently asked questions post, please contact us directly and one of our customer service representatives will get back to you as soon as possible.