EDI stands for Electronic Data Interchange and loosely defined, EDI is the structured transmission of electronic data such as purchase orders, invoices and shipping notices between organizations. More simply, it ensures that Company A's systems can talk to Company B's systems, and nothing will be lost in translation. The most common use case for this is when EDI compliance is required by a trading partner for a new supplier entering the market, or expanding their distribution channels.
Every day at TrueCommerce B2BGateway, we enable thousands of trading partner relationships to exchange documents. Some trading partners you may recognize are Tesco, Wal-Mart, Amazon.com and Target. Electronic Data Interchange is not an out of the box solution. There are standards which need to be followed such as ANSI X-12 UN/EDIFACT, Tradacoms, Eancom and Odette. There are also protocols which are set in place such as a VAN or Value Added Network, FTP and AS2. These standards and protocols must be followed in order to successfully exchange documents between our clients and trading partners.
Electronic Data Interchange saves you time and streamlines your business, in turn saving you money. It eliminates data entry errors and chargebacks and increases your efficiency and speed. There are large cost savings on labor, an excellent return on investments, it's environmentally friendly by reducing paper transactions, there are improved tracking capabilities, supply chain management, and it reduces stationary and postal charges.
If you would like to see a demonstration video of how TrueCommerce B2BGateway's EDI solutions work for a specific accounting package, please don't hesitate to call your local office or send an email to Sales@B2BGateway.Net. For additional information, please view our brief video.
Have a question about EDI?
Integrated EDI
Integrated EDI solutions enable efficient, seamless communication between all parties in the supply chain by removing the need to re-key data and reducing the need to rely on human manual processes.
Since 1999 TrueCommerce B2BGateway has built integration tools that allow the user to connect EDI directly to their back-end office system. TrueCommerce B2BGateway supports both SDK and API integration platforms. Having a fully integrated EDI solution enables incoming purchase orders to be populated as sales orders in the user's back-end system while returning documents such as invoices and ship notices can be pulled automatically and returned to the trading partner in their required EDI format.
TrueCommerce B2BGateway's Integrated EDI solutions are trusted by thousands of organizations worldwide for the exchange of electronic business documents such as orders, invoices, shipping notices, inventory updates, etc. Having a global footprint allows TrueCommerce B2BGateway to support all internationally recognized EDI standards (ANSI X12, EDIFACT, Tradacoms, PEPPOL, oioUBL, XML, etc.) as well as communication protocols (VAN, AS2, FTP, sFTP, HTTP, etc.).
TrueCommerce B2BGateway fully integrated, cloud based EDI solutions can support:
ERP or Accounting Software (

NetSuite

, Sage,

QuickBooks

, Acumatica, Xero, SAP, Exact etc.)
WMS (Camelot, Snap Fulfill,

3PL

Central)
Inventory and OMS (Acctivate, Freestyle Solutions, Brightpearl, TradeGecko)
eCommerce solutions (Magento, Shopify, WooCommerce, Bigcommerce, 3dcart, Volusion)
Legacy systems. If you have a one-off custom built back-end office software solution, TrueCommerce B2BGateway's integrated EDI solutions may be able to support same, providing your custom back-end solution has both import and export functionality. Please contact our offices to discuss your individual needs.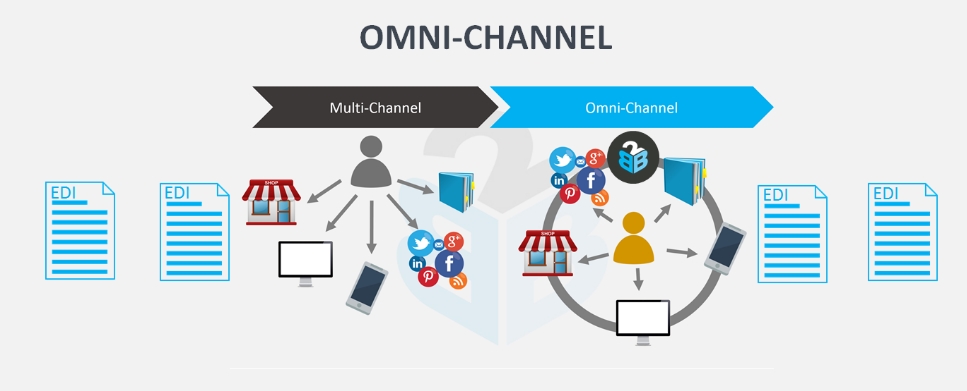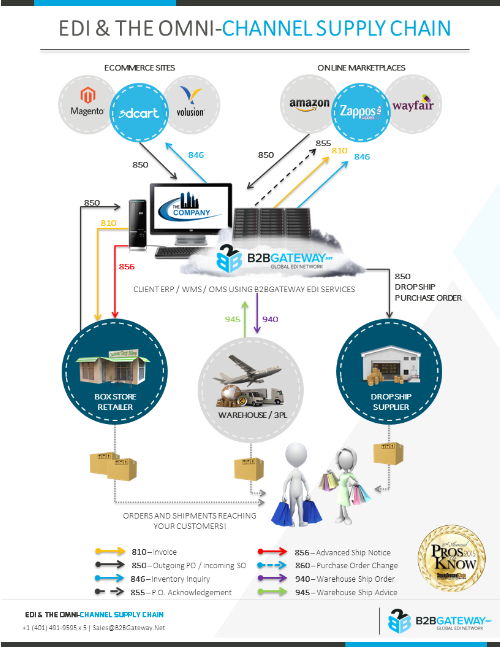 Omni-Channel introduces Consumer to the B2B workflow.
No longer just B2B, now suppliers must think of bigger picture – B2B2C.
Need to get right product through the right channel to the right consumer at the right price and in the right timeframe.
EDI seamlessly integrates all communications within the supply chain, delivering greater accuracy and reduced costs.
To fulfill goods and services for the ever-increasing world of omni-channel retail, suppliers have to create excellence in their omni-channel logistics operations. Omni-channel retailing is best described by Wikipedia as the evolution of multi-channel retailing but is concentrated more on a seamless approach to the consumer experience through all available shopping channels, i.e. mobile internet devices, computers, bricks-and-mortar, television, radio, direct mail, catalog and so on. Retailers are meeting new customer demands by deploying specialized supply chain strategies and software solutions.
The major challenge for suppliers, in order to meet the retailers' new omni-channel needs, is to get their goods and services to the correct channel as quickly and as accurately as possible and, needless to say, in the most cost-effective manner.
In order to help suppliers achieve excellence in omni-channel logistics, fully-integrated EDI solutions deliver full end to end seamless connectivity between the supplier and all parties in the supply chain from box store retailers (Wal-Mart, Target, CVS, etc.) to online retailers (Amazon, Buy.com, Wayfair, etc.), to manufacturers, third-party logistics providers (3PL) and even the supplier or manufacturers own online shopping carts (which may be powered by online platform providers such as 3dcart, Volusion, Magento, Shopify, etc.).
As there is full automation and no need to re-key data, the supplier benefits greatly from increased speed, increased accuracy, greater visibility and reduced labor overheads, while the omni-channel retailer is assured that they will get the right product to the right customer in the right time frame and within agreed costs.
Click here for more information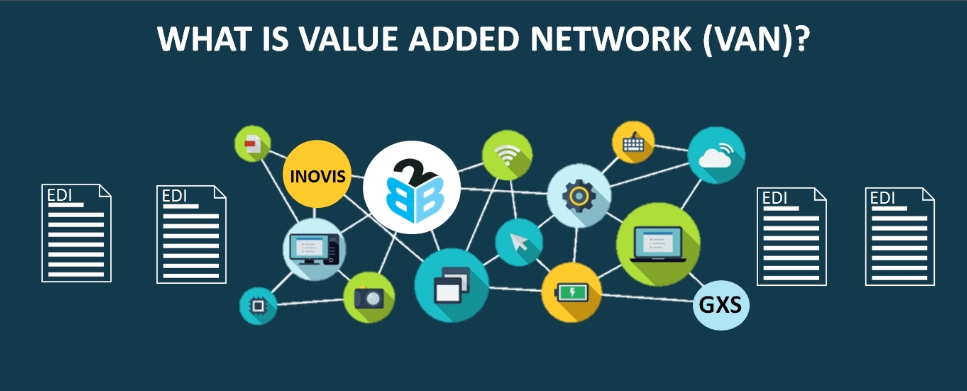 EDI Communication Methods
TrueCommerce B2BGateway, although not a VAN, works with and connects to all of the major VANs (GXS, Inovis, Covisint and many more) as well as many smaller VANs. If your trading partner has a VAN that we have not used, the interconnect is set up, tested and put into production – usually within a day.
A VAN is just one of the many ways documents can be delivered. Some of the more popular transmission protocols include AS2, SFTP, FTP, and others. There is no limit to the types of transmission protocols TrueCommerce B2BGateway can connect with, they are only different, based upon the preference of our/your trading partner.
API: Application Programming Interface
An Application Programming Interface, also known as an API, enables business systems to connect to each other in real-time. APIs and EDI can both be used to achieve the same goal of integrating vendors to the retailers they trade with, any business systems they use, and connecting them with third-party logistics (3PLs) if needed. Using an API to set up a new EDI integration is contingent on the ERP, Retailer, 3PL, etc. having an API available to connect with.
An API is considered to be a communication method that facilitates an EDI connection, however APIs are capable of more than that. An EDI integration built with an API is flexible and offers companies more customization options that goes beyond the scope of standard EDI.
AS2: Applicability Statement 2
Applicability Statement 2 (AS2) uses the same signing, encryption, and MDN conventions used in the original AS1 protocol. AS2 messages are usually sent across the internet using the HTTP or HTTPS protocol. AS2 has been widely deployed as a point-to-point connectivity method. AS2 offers many advantages over standard HTTP, including increased verification, and security achieved through the use of receipts and digital signatures. AS2 transactions and acknowledgments also occur in real-time, increasing the efficiency of document exchanges. Walmart was one of the first companies to help drive the adoption of AS2 across the retail sector.
FTP: File Transfer Protocol
File Transfer Protocol is a standard network protocol used to exchange and manipulate files over a TCP/IP based network such as the internet. FTP is built on a client-server architecture and utilizes separate control and data connections between the client and server applications. FTP is also often used as an application component to automatically transfer files for internal functions within programs. FTP can be used with user-based password authentication or with anonymous user access.
HTTP: HyperText Transfer Protocol
HyperText Transfer Protocol is used to request and transmit files, especially web pages and web page components, over the internet or other computer networks. In HTTP, web browsers typically act as clients, while an application running on the computer hosting the web site acts as a server. HTTP is typically implemented across TCP/IP however it can be implemented on top of any other protocol on the internet, or on other networks.
HTTPS: HyperText Transfer Protocol Secure
HyperText Transfer Protocol Secure is a combination of the Hypertext Transfer Protocol with the SSL/TLS protocol to provide encryption and secure identification of the server. HTTPS connections are often used for payment type transactions across the internet and for the exchange of sensitive information between corporate business systems.
SFTP: Secure File Transfer Protocol
Secure File Transfer Protocol is a network protocol that provides file access, file transfer and file management functionality over any reliable data stream. It was designed as an extension to the Secure Shell protocol (SSH) version 2.0 to provide secure file transfer capability, but it is also intended to be usable with other protocols as well. SFTP can be used in a number of different applications such as secure transfer over Transport Layer Security (TLS) and transfer of management information within VPN applications. This protocol assumes that it is run over a secure channel, such as SSH, that the server has already authenticated the client and that the identity of the client user is available to the protocol.
SMTP: Simple Mail Transfer Protocol (E-mail)
Simple Mail Transfer Protocol (SMTP) is an EDI Communication Method used to transmit EDI files over the internet via email.
VAN: Value Added Network
Often abbreviated as VAN and today called an EDI Network Services Provider, a third-party entity which handles the electronic exchange of information between subscribers to its services. Services provided by VANs include electronic mailboxing of EDI transmissions, protocol and speed conversion, and EDI record keeping for audit tracking.
Check Out our EDI Definitions & Glossary
Have a question about EDI?