B2BGateway recently implemented a client survey campaign in order to better understand our client's experience with B2BGateway and help identify areas of strength and areas that might need some improvement. As our global operations continue to grow year in and year out, retaining our client base remains our number one priority.
Many companies go with the generalized survey approach (we did in the past) and we find that the feedback isn't optimal. When a survey goes out to our entire client base at one time, we can end up with feedback that cites time frames that can stem back many months, making it difficult to address any concerns in an efficient manner.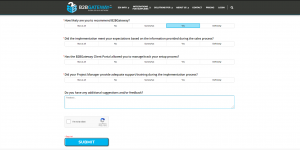 Our surveys now go out to individual clients with the intent of soliciting feedback based on their recent experiences of working with B2BGateway. When a client completes a setup, the first survey is sent to the client asking them about their experience. We ask a series of questions and give clients an opportunity to provide detailed feedback. Our hope is the survey comes back positive but in the rare instance it may not, B2BGateway can quickly review and attempt to address any client concerns.
A second survey goes out 90 days after the relationship has moved to production. This survey is important because B2BGateway wants to ensure that things have gone as expected since moving to production and if there are concerns since moving to production, we again have the opportunity to address any concerns in a timely fashion. Finally, surveys will also go out annually after that – again with the goal of identifying areas of strength and areas that we could be better.
We pride ourselves in not having a help desk and we lead the industry in customer support. Our Project Managers and Production Support Staff are available daily by email and phone in order to address our client's needs. Our surveys are not meant to replace that personal touch and we surely don't view these surveys as the time to address a client's concern however, these surveys do provide us with the opportunity to identify trends and what we're great at, what we can do better and consider new functionalities that will enhance our clients' experience.
When you receive a survey, please take a few minutes to fill one out. We truly review each and every one of them and do our best to act on them.