Industry
Consumer Packaged Goods | Mens Grooming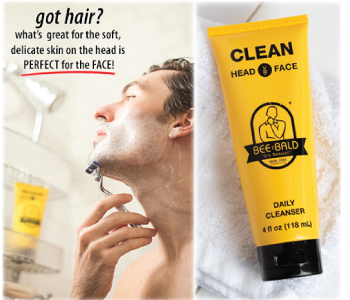 ABOUT BEE BALD LLC
Why call the company BEE BALD® and what does the name have to do with our products? Don't let the name fool you . . . honey and pollen extracts are packed into all of our products ("BEE") and I'm bald ("BALD"). I wanted high quality, affordable products that were perfect for my face, but also my head. It seemed simple enough, yet no one out there was making them.
BEE BALD® products have quickly found their way to retailers and web resellers throughout the country. It's truly a great time to BEE BALD!
– Dennis Fisher | Bee Bald LLC
BUSINESS CHALLENGE
Bee Bald LLC found that trying to comply with the varying requirements of multiple retailers' individual needs became overwhelming, especially considering the technical nature of the work involved. They needed a reliable, simple, and hassle free solution to get the job done.
SOLUTION
TrueCommerce B2BGateway's EDI solutions integrated flawlessly with Bee Bald's accounting software and immediately had orders importing directly into QuickBooks.
BUSINESS BENEFITS
Integrating EDI with QuickBooks is a huge time saver. Their solution works seamlessly." Bee Bald is thrilled to have complicated processes broken down into simple, hassle free and reliable EDI.
Download Case Study PDF
About TrueCommerce B2BGateway
TrueCommerce B2BGateway offers Fully Managed EDI & API Connectivity Solutions for QuickBooks that are 100% built and maintained by TrueCommerce B2BGateway developers. TrueCommerce B2BGateway's QuickBooks solutions facilitate the seamless exchange of any business documents such as purchase orders, invoices, inventory updates, and advanced shipping notices. TrueCommerce B2BGateway supports any communication method (FTP, AS2, HTTP, etc) and any file type (X12, XML, EDIFACT, CSV, etc). TrueCommerce B2BGateway's QuickBooks solutions are simple to use, competitively priced, and eliminate manual data entry errors that result in costly chargebacks.
In addition to our global headquarters in Rhode Island, TrueCommerce B2BGateway has offices in Europe and Australia enabling us to offer unparalleled support across all time zones.
For further information please visit www.b2bgateway.net
Main Office: +1 401-491-9595
Europe: +0345 643 6600
Australia: +61 2 8003 7584
© 2023 TrueCommerce B2BGateway. All rights reserved. This case study is for informational purposes only.