Following the success of the IRCE show in Chicago in June, B2BGateway has partnered with Bigcommerce to deliver quality, cost effective EDI solutions to shopping cart users.
Bigcommerce is a true all-in-one ecommerce platform, giving users a securely hosted website, domain name, shopping cart, product catalog, CRM and marketing capabilities. By using B2BGateway, shopping cart users will be able to fully integrate their online shopping cart with their backend ERP or accounting software solution. This will remove the need to re-key orders and will give the user ability to update their inventory on their site if needed.
For further information on how B2BGateway's EDI solutions integrate with Bigcommerce and can help further automate your supply chain please contact us at Sales@B2BGateway.Net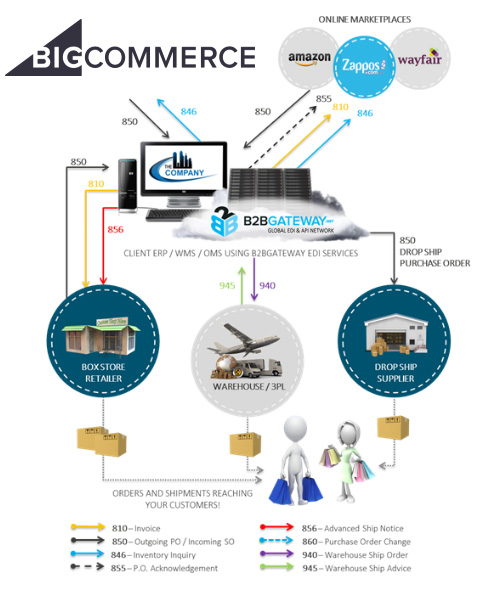 Build a modern online store to grow your brand with Bigcommerce
BigCommerce is the leading platform for creating beautiful, intuitive ecommerce websites that enhance your brand and engage shoppers. Build a gorgeous site that gets results using our out-of-the-box themes or advanced customization framework.
Completely customize your site
Bigcommerce intuitive storefront editor lets you change your site's look with no coding required. Or your developers can use their industry-best theme framework to build a completely custom online store with HTML, CSS and popular code libraries. They also offer advanced features like shopper personalization, a local development environment that uses your live product data, and simultaneous previewing on desktop and mobile displays.
100+ stunning eCommerce themes
Bigcommerce offers more than 100 responsive templates built on best-in-class theme platform. They let you fully express the power of your brand and sell more on any device using the latest best practices in technology, design, conversion, and SEO.