B2BGateway staff attended the Acumatica 2018 R2 Launch event in Boston, Massachusetts on Wednesday, September 12, 2018. We joined Acumatica users, resellers, staff members and fellow ISV's in learning about the exciting and powerful enhancements to their platform. Acumatica's 2018 R2 release factored in Acumatica users feedback and focused on customer satisfaction, usability and compliance.
Some highlights of the enhancements include:
Increased mobility features that focuses on end user functions such as navigation updates, push notifications, targeted pop up notes and improved date management.
A side panel in the generic inquiry function that allows users to manage details of a specific record in an inquiry on the same screen.
Financial management enhancements to close financial periods by company by providing different financial periods to manage books separately for each company in the same tenant.
CRM portal upgrades include Outlook integration enhancements that link email activities with any contact in the system.
Industry specific solution updates to the Distribution, Manufacturing, Field Service, Commerce and Construction editions.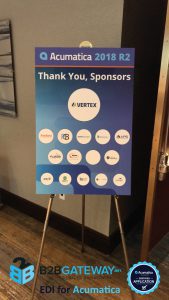 Since 2014, B2BGateway has successfully integrated Acumatica users and their Trading Partners. While other EDI providers Acumatica integrations are built by 3rd parties, our fully integrated Acumatica EDI & API Connectivity solutions are built and maintained by B2BGateway developers. B2BGateway's 2018 R1 solution is fully certified by Acumatica and we will be certified for 2018 R2 within the next few weeks. B2BGateway works with clients of all sizes and across all industries to deliver the seamless exchange of all business documents such as Purchase Orders, Invoices, Advanced Ship Notices and Inventory Status Reports via all communication methods and file types.
B2BGateway will be sponsoring Acumatica's road show in Chicago on October 2. We are excited to connect with the attendees and Acumatica staff and continuing to offer an Acumatica solution that is unrivaled in the EDI & API Connectivity world. For more information on how our Acumatica EDI & API Connectivity solutions can help you streamline your day to day operations, please contact our Business Development Representatives at 401-491-9595, Ext. 5 or at sales@b2bgateway.net.