B2BGateway will be an exhibiting sponsor at the upcoming 2018 Ross SIG Conference held in Atlanta, GA held from October 15th – 18th, 2018. Aptean Ross users and resellers will get a firsthand look at how the new Aptean Ross enhancements can accelerate their growth and increase productivity as a user.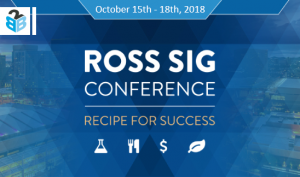 When:

October 15th – 18th, 2018

Where:

Loews Hotel
1065 Peachtree St NW
Atlanta, GA, 30309
B2BGateway has been an EDI & API Data Connectivity Solutions provider for Aptean Ross for many years, leading the industry in cloud-based fully-integrated EDI & API Data Connectivity solutions for Aptean Ross users. Aptean Ross ERP supports industries with complex requirements such as Food Manufacturers and Pharmaceuticals. B2BGateway's experience with Aptean Ross and these industries enable us to provide our Aptean Ross users with customized solutions to meet their needs.
Be sure to attend the seminar presented by Chad Hoyle: EDI and API Connectivity Solutions from B2BGateway hosted Tuesday, October 16 at 3:15pm – 4:05pm.
B2BGateway Representatives Chad Hoyle and Greg Wolf will be attending the 2018 Ross SIG Conference in Atlanta, GA. Chad and Greg will be there to discuss and answer any questions about how B2BGateway's EDI & API connectivity solutions can integrate with Aptean Ross. B2BGateway's EDI solutions can help streamline business processes which reduce manual data entry and help businesses save time and money.
More information on the 2018 Ross SIG Conference can be found on their website HERE
Chad
Hoyle
Business Development Representative
Phone: (401) 491-9595 Ext. 2102 (office)
E-Mail: ChadH@B2BGateway.Net
Greg
Wolf
Setup Project Manager