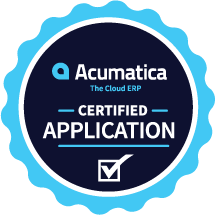 B2BGateway's EDI & API Connectivity Solutions become Acumatica Certified for version 2020 R1, amidst recent integration enhancements.
B2BGateway, Global EDI & API Network, is announcing that its solution has been recognized as an Acumatica-Certified Application (ACA) for version 2020 R1. Acumatica, the world's fastest-growing cloud ERP company, has been recognized as a Visionary in Gartner's Magic Quadrant for Cloud Core Financial Management Suites for Midsize, Large and Global Enterprises 2019, as well as in The Gartner Magic Quadrant for Cloud ERP for Product-Centric Midsize Enterprises.
B2BGateway has been working with Acumatica since 2014, providing fully managed EDI & API connectivity solutions for their users. Acumatica is a comprehensive, browser-based Cloud ERP solution optimized for ease of use, adaptability, mobility, speed, and security. The ACA title highlights outstanding development partners whose applications have met the highest standards set for Acumatica integration and functionality.
"Customers who want to stay competitive need flexible, responsive technology to execute their long-term business strategies," said Christian Lindberg, Vice President of Partner Solutions at Acumatica. "Our ACA label is built to help customers find applications capable of delivering that. We're proud to recognize B2BGateway as an Acumatica-Certified Application. It masterfully utilizes the Acumatica platform to meet customers' growing business demands."
By becoming an Acumatica-Certified Application, B2BGateway continuously demonstrates commitment to quality by passing the Acumatica software test and aligning to future Acumatica roadmap releases each and every year. B2BGateway's solution is 100% built and maintained by their own staff. "We've never outsourced any of our EDI mapping or API development to this day," says Vincenzo Cordone, Vice President of Corporate Development at B2BGateway. "This enables us to provide an additional level of customization for our clients that we believe our competition may not be able to support." That customization will also help that client grow as they continue to add trading partners and their EDI needs evolve.
Additionally, B2BGateway has made some recent enhancements to their integration, proving the dedication to the partnership and the ability to provide Acumatica user's a reliable and fully integrated EDI solution.
The 2020 R1 certification process to no surprise was another banner success," said Zackariah Ajaj, Director of Integrations at B2BGateway. Our partnership with Acumatica, along with our integration, only continues to improve with every new feature and certification process we undertake. The development resources within the Acumatica organization are extremely knowledgeable as well as collaborative. We are very much looking forward to the 2020 R2 release and future advancements.
If you are an Acumatica user and you are interested in an EDI solution or need API connectivity to enhance business processes, improve order accuracy and quicken your order cycle with your trading partners, email us at Sales@B2BGateway.Net or call us +1 (401) 491-9595, Ext. 5.